Taos Soccer Club Returns to Taos Eco Park for 2016 Match Play
We'd like to give a warm welcome to the players and management of the Taos Soccer Club returning for another Summer season at the Eco Park. The Co-ed 8v8 league has been a staple of summer activity in our area for over a dozen years. Players range in age from 14 up into their fightin' 50s. The League format is 8v8 on half field with smaller goals and no goal keepers. The Club promotes that players self manage their teams. A single official leads the match based on the League rules of play which are modified for 8v8 format and available on the league website.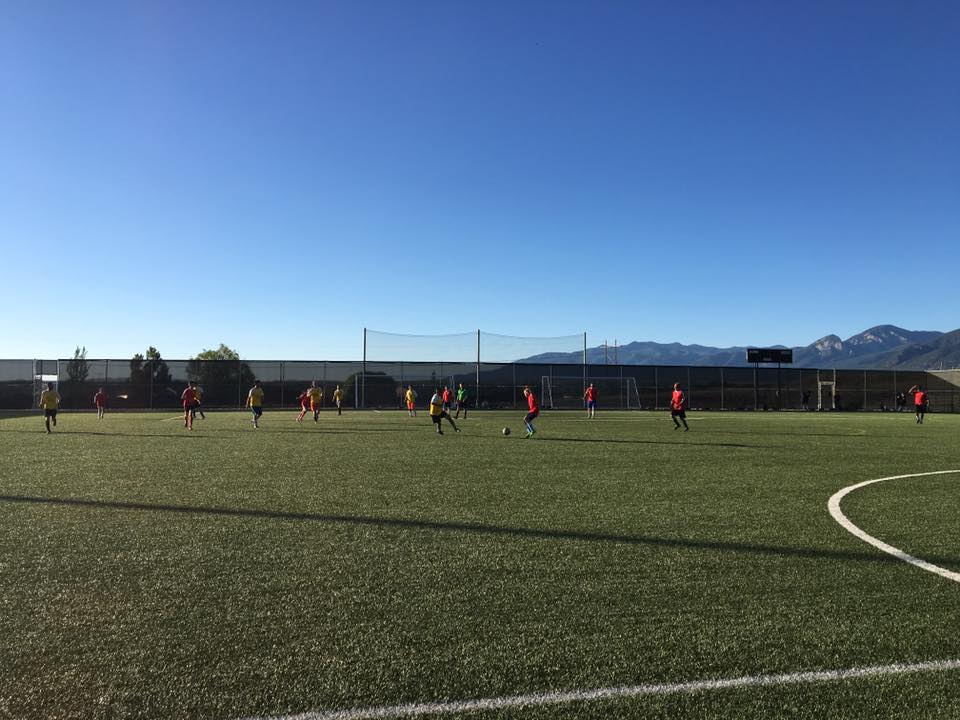 This year, league directors Charles Baston, Lee Backer, Ezra Bayles and Chris Painter have constructed four teams with an average of 15 players per team. Each team plays twice a week, once on Tuesday and once on Thursday. The teams formed this year are the Dragons, The Secopaths, Tide and Ninjas. See the schedule for weekly matches here. As the league proceeds, stats will accumulate and anyone can check out the performance measures on your favorite players here. Come watch matches and each week at 6pm and 7:30pm weekly.
More Summer Soccer Opportunities in Taos
In addition to 8v8 play, pickup matches frequently pop up on the weekday and Sunday evenings as well, and can be suggested by posting to the Taos Eco Park Facebook page or by joining the conversation in the Taos Soccer Facebook group. For youth this summer, the Challenger British Soccer Camp is also coming up at Fred Baca Park the week of June 13-17 for youth ages 5-15. At Eco Park, Michael Hensley is again providing FREE summer youth skills sessions dubbed "Soccer Skillzs" trainings most weeks on Monday, Wednesday and Fridays from 8-10am. See Taos Eco Park Calendar for more info. Hensley is well known in Taos as both leading skills development Trainer and as one of the top anatomical and visionary artists in the Southwest. Michael also offers free drawing workshops for youth at the Millicent Rogers Museum during the summer.
Visiting teams and individuals who want to organize pickup soccer, book a training, or other field activities should contact us to book the park.