welcome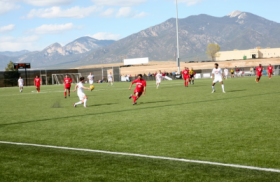 Taos is a mecca for high altitude training at 7000+ elevation and 360 days of sunshine and superior air quality. The Taos Eco Park's artificial turf FIFA 2-Star Field is a great place to train.
Taos Eco Park's professional staff manages full-service travel, hotel, food, equipment and facility services for team sports, specializing in training camps and skills sessions for high altitude training.
Eco Park Events
At the highest altitude FIFA 2 Star Field on the planet, we have NCAA soccer this Fall. Come out and enjoy a match.
Fort Lewis College, Air Force Academy, Colorado Mesa University, men and women's soccer. Come out and be part of the play! Find out the details ~ admissions and schedule.
Check out the youth soccer happenings at the park.
Sponsors