Soccer time is now upon us! Thanks to all 14 teams who participated in this year's event. We had an amazing Season Opener and Expo weekend, with perfect spring soccer weather and great competition, featuring big names in regional college and pro soccer.
Our Season Opener featured University of Colorado Pueblo Thunderwolves taking on Albuquerque Sol on April 4. Thunderwolves fell to the bright light of the Sol during a beautiful Friday evening sunset at the park. The match up was formidable, but the Wolves couldn't hold back the scoring power of the Sol. It was wonderful to host these two teams who show a lot of heart in competition.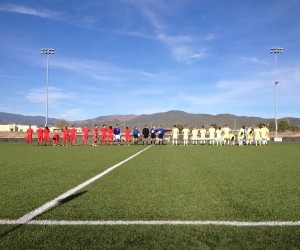 April 10 saw a match up between 2014 State Champions Classic FC Toros featuring Taos' own Carlos Ruiz vs. University of Colorado Colorado Springs. Coach Keen's players proved a great match up for the young Albuquerque Club team, holding them to one goal to UCCS' two. In the end, size and speed won out over a very strong youth team.
April 11 brought out a full day of competitive match ups starting the day with Trinidad State Junior College's Trojan men against Jason Moran's Rio 97s. This was a great match up with both teams laying it on the line. The club team, not used to losing, was pushed to its limits with the strong Trinidad squad, last year's NJCA National Semifinalist. The 12:30 match pitted the Trojan women versus Eastern New Mexico's Zia women. Eastern took Trinidad to task, and outshined the Trojans.
The 3pm match was our event D1 showcase with UNM Lobo men taking on Denver Pioneers. Coach Fishbein's Lobos beat the Pioneers 3-1. Both sides fought hard but the Lobos out scored the Pioneers.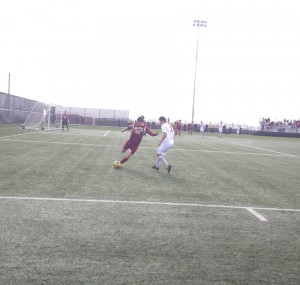 The Sunday matches showed off ENMU and Adams State men facing off their new squads, giving freshman and bench a chance to show their stuff and earn a spot on the first string in the fall. Both matches were good, and each team took a win. Another enjoyable match up was Otero Junior College v Highlands University women.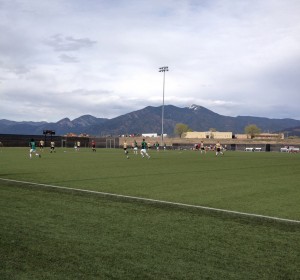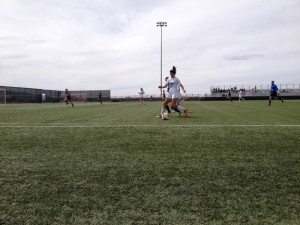 It was a pleasure to host such a wonderful group of young men and women in Taos and to expose our youth players and local fans to quality college play. We hope the teams have inspired the local community, and we hope Taos Sports Alliance has inspired the teams to return for spring matches in 2016, as well as summer training and neutral pitch matches.